Managing expectations
When Hill Robinson was founded in 2000, the concept of yacht management was relatively new. More than 20 years on, this specialised service has developed and evolved significantly.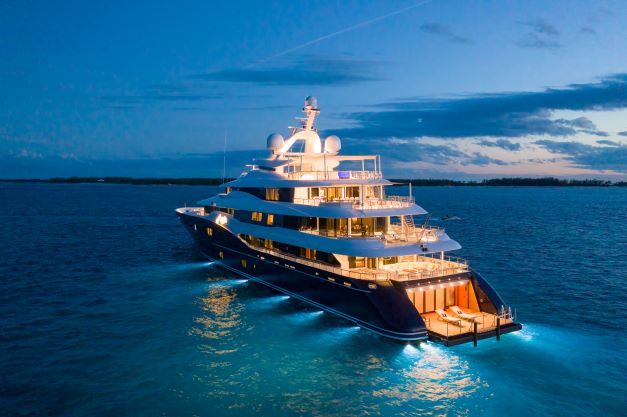 Over the last few decades, yachts have been subject to an increasing amount of maritime safety and environmental regulations. To ensure ongoing compliance with these regulations, owners and captains required additional support, and this created a need for yacht management services. This is essentially how Hill Robinson came into being in 2000; to manage the increasing operational complexities of the world's largest yachts.
A yacht manager is, and will always be, the central point of contact for the yacht's stakeholders. As the fleet has grown, however, Hill Robinson's approach to yacht management has adapted to offer more specialised support in relevant fields. As Isabel Bermudez, Head of Yacht Management, recalls, "When I started working for the company 10 years ago, we did not have a compliance department, so the yacht managers dealt with any compliance issues as needed. As our fleet grew, there was a need for more specialised support – now we have an entire compliance department."
Another example of a specialised service that Hill Robinson has added to its offering as its fleet has grown is crew recruitment: there is now an in-house team of crew specialists who carefully select candidates to suit each yacht's individual needs. The role of the yacht manager, however, is unchanged. "We remain the main contact for everybody that has any connection with the yacht and orchestrate the whole entity," adds Isabel.
It's essential, of course, that these various departments work together with the yacht manager to ensure the smooth running of each yacht. As such, the Hill Robinson Antibes office – from which around 55 yachts are currently managed – is a well-oiled machine.
"The office is made up of a technical team, an operational team, an accounting team and a compliance team and, from these teams, clients service teams are created," Isabel explains. "Each yacht manager works with a yacht administrator, technical manager, account manager and compliance manager to form a client service team. Each client service team then works for a group of boats, sitting together in the office and continuously sharing information."
In fact, this teamwork is so effective that Isabel believes it's one of the company's key strengths. The team is made up of former crew, naval architects, accountants and a variety of other professional backgrounds, thereby providing a well-rounded support network and array of expertise to each yacht under Hill Robinson's management.
Another key aspect that makes Hill Robinson's approach to yacht management stand out in the industry is its flexibility. "We are very good at adapting to each client's needs – how our yacht management works for one boat looks completely different to how it works for another boat because we listen to the owners and captains and what their specific expectations are," says Isabel. "For some boats we do mostly technical management or accounting and for other boats we spend hours on the phone with the captain every day. Our yacht management is not a standard service, it's very specific to each client."
Captain Mark Stout has been the captain aboard two yachts under Hill Robinson's management in the last five years and agrees that the management team is what makes the company stand out. "Hill Robinson is one of the friendliest management companies to work with – Isabel and the project managers are available to speak to around the clock and when I go to the Antibes office for meetings there are always the same familiar faces and everyone is very welcoming," he explains. "There have been some tough decisions over the years, but we as a team were always able to find an amicable solution."
Captain Brendon Gorn of M/Y KATHLEEN-ANNE has worked with Hill Robinson from the very beginning, having captained one of the very first boats that the company managed, and three further yachts over the 20-plus years since then. He comments, "I've seen Hill Robinson grow from a team of four people to over two hundred, and the core mission of the company hasn't changed: to look after the owner's interests to the best of their abilities, as well as ensure the safety and wellbeing of the crew."
As Hill Robinson's management proposition has expanded to encompass a full spectrum of services that owners require the most, its team's dedicated and collaborative approach has maintained the company's high standards of excellence across its flourishing fleet.