Press
All eyes East: a new sun rises
Hill Robinson reflects on the inaugural Saudi Arabian Grand Prix and the potential that Jeddah Yacht Club and Marina – as well as the wider region – holds for the superyacht industry…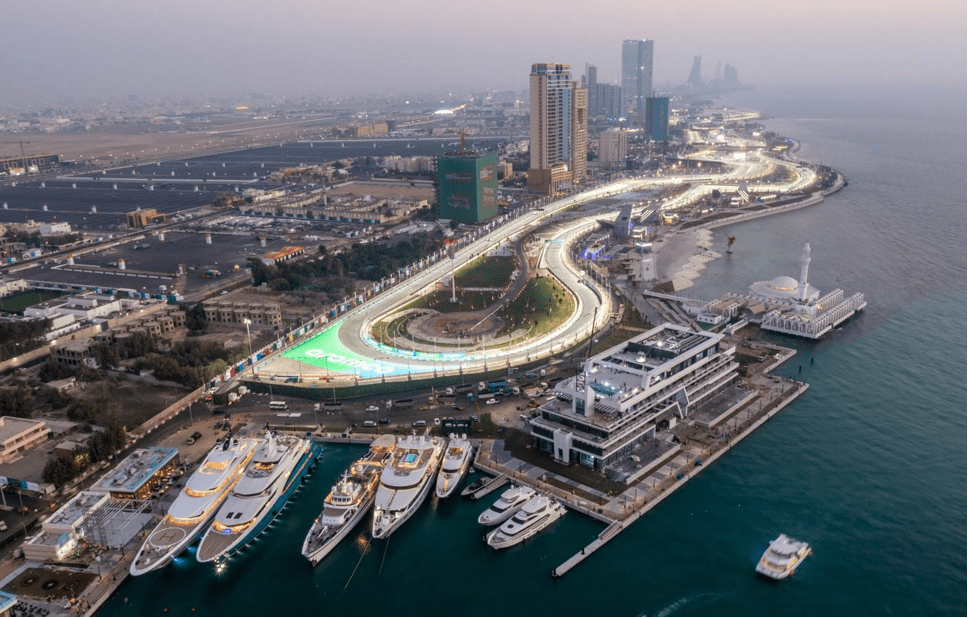 Held from 3 to 5 December, the 2021 Formula One World Championship reached boiling point during the inaugural Saudi Arabian Grand Prix with some heated and dramatic racing, catapulting the brand-new Jeddah Corniche Circuit into the limelight.
As Formula One never fails to attract a loyal superyacht following, the event also offered a preview to the grand opening of Jeddah Yacht Club and Marina, welcoming its first superyachts over the Grand Prix weekend.
The Hill Robinson team, including Project Liaison Manager Gabriele Niems, was on the ground in Jeddah supporting a fleet of charter yachts there for the Grand Prix. Reflecting on the event, Gabriele praised the setup for spectating superyachts due to the proximity to the action and amenities.
"All of the yachts were very impressed when they arrived," Gabriele comments. "The track runs behind some of the superyacht berths, so guests could watch the racing from on board. The F1 Village was close to the marina and the live music and entertainment created a great atmosphere. It's a fantastic place for the boats to be."
A first for the region, Jeddah Yacht Club and Marina has the capacity to accommodate over 100 yachts and superyachts up to 120 metres. Having opened its doors especially for the Grand Prix weekend, it's now closed again for ongoing works until its grand opening in March 2022, from which time it will act as an official point of entry to the Kingdom of Saudi Arabia.
Gabriele is enthusiastic about the potential of the development as a new superyacht destination; "Some of the facilities were not open in time for the Grand Prix, but it is going to be amazing when complete. There will be nine high-end restaurants, some of which were already open, numerous luxury retail outlets, a brand-new yacht club with spectacular views and a beach club. Some of the yachts in attendance have already said that they would look forward to returning."
Jeddah Yacht Club and Marina is part of a wider initiative throughout the region to attract international tourism. As part of its Vision 2030, the Kingdom of Saudi Arabia is undertaking a series of ambitious coastal developments centred around yachting infrastructure, including NEOM, AMAALA and The Red Sea Project. Together, they aim to redefine sustainable, luxury travel and make the 'Red Sea Riviera' the essential destination for the elite yachting community.
The inaugural Saudi Arabian Grand Prix has provided a tantalising glimpse at what's to come, showcasing Jeddah Yacht Club and Marina as a natural gateway to cruising the Red Sea. Hill Robinson is eagerly awaiting the official opening – in time for the return of the Saudi Arabian Grand Prix from 25 to 27 March 2022 – and assisting many more superyachts in experiencing this new yachting hotspot.