Press
New year, new builds
The past year has been a buoyant one for the superyacht industry; with pent-up demand in the wake of the Covid-19 pandemic boosting yacht sales and charters across the board. 2021 was also a progressive year in terms of new build activity, having recorded the highest number of annual deliveries since the sector's glory years of 2004-9.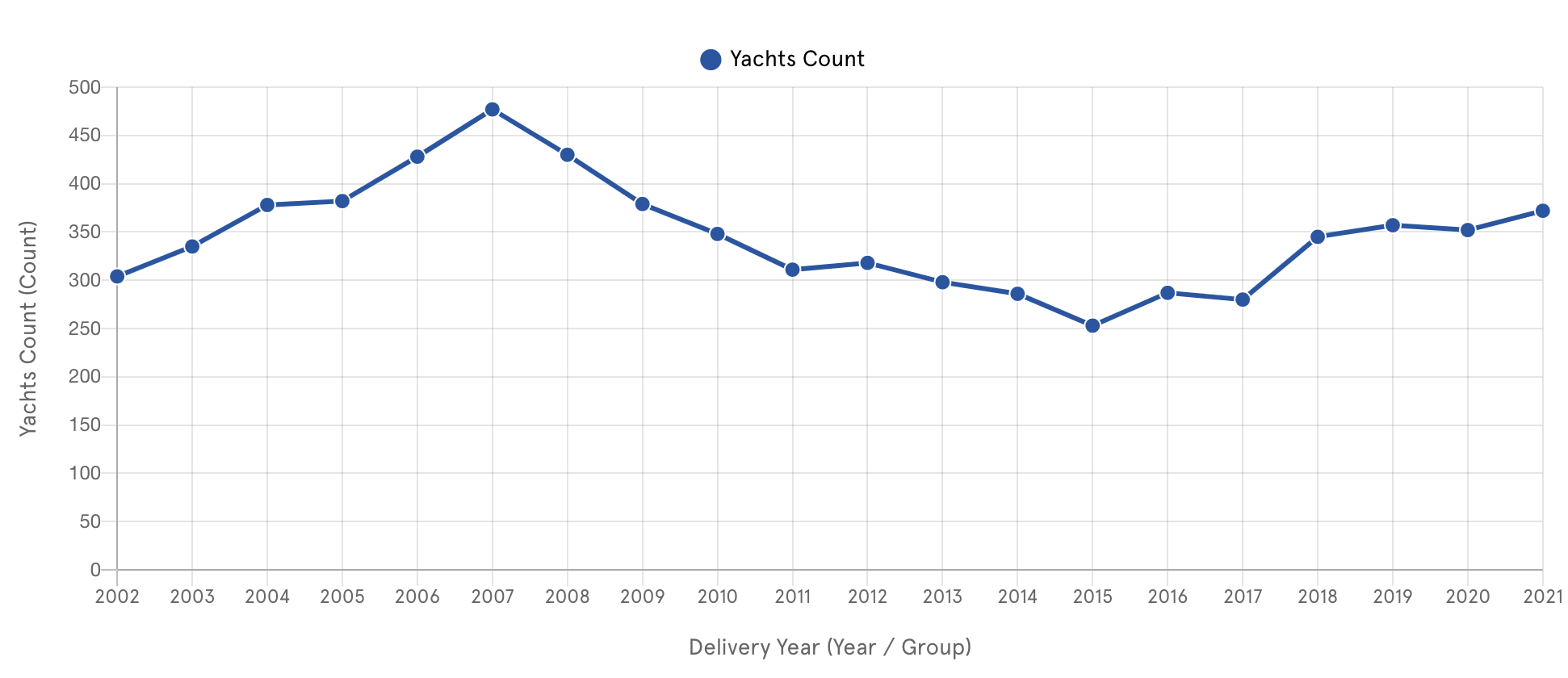 According to data sourced by BOAT Pro, a total of 371 yachts over 24m were delivered in 2021, representing a 5.9 per cent year-on-year growth rate over the last five years. Of those yachts delivered last year, 54.2 per cent were built by Italian shipyards, with Sanlorenzo and Azimut contributing the highest numbers of units. The largest deliveries included 141.6m Nord, delivered by Lürssen in February, and 139.7m Solaris, delivered by Lloyd Werft in May.
Looking ahead to this year, 527 yachts are scheduled to be delivered in 2022 (although this number will inevitably be less due to the delays and unsold projects that occur every year). The average LOA of deliveries scheduled for 2022 is 35.1m – a slight increase from the average delivered LOA in 2021 of 34.8m and representative of the steadily growing average LOA of the superyacht fleet.
There are a staggering eight projects over 100m due for delivery in 2022, four of which are currently in build at Oceanco. The largest of these projects is a 127m sailing yacht (in build at Oceanco), a 118.8m motoryacht at Feadship, a 118.2m motoryacht at Abeking & Rasmussen and a 117m motoryacht, also at Oceanco.
With the number of annual deliveries having increased from 253 units in 2015 – the lowest it's been in the last decade – to 372 units in 2021, 2022 holds the potential for further signs of industry growth. With more and more shipyards reporting full order books and limited capacity, it's set to be an exciting period of deliveries!