Hill Robinson returns as headline sponsor of Les Voiles d'Antibes
Taking place out of Port Vauban from 1 to 5 June, the 2022 edition of Les Voiles d'Antibes is set to feature an impressive line-up of over 60 yachts. Hill Robinson is delighted to once again be sponsoring the iconic event, which promises four days of exhilarating racing and lively shoreside entertainment.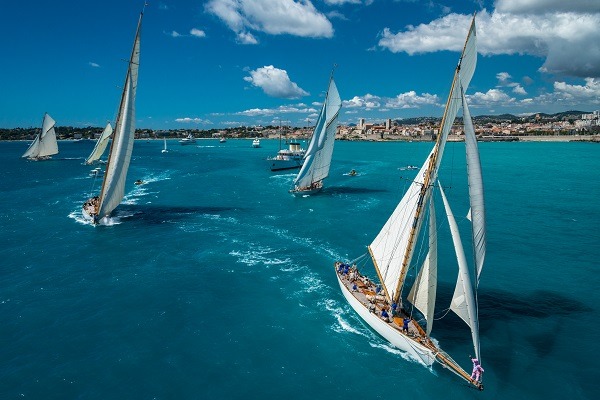 Yann Joannon, co-founder of Les Voiles d'Antibes, comments, "Hill Robinson joined as our main sponsor in 2019. It's a great collaboration and I would say it's more of a partnership than a sponsorship. We share the same vision and enthusiasm. That's why we get on so well; our main goal is to keep Les Voiles d'Antibes fun."
As usual, Les Voiles d'Antibes will welcome some of the world's most beautiful classic yachts for its 27th anniversary, including some first-time entrants as exciting additions to the fleet. Built in 1929, La Spina has recently been restored to its original splendour and will be racing in Les Voiles d'Antibes for the first time. Scud is one of 13 identical sloops designed and built by Herreshoff in 1903 and has also been freshly restored in time for the regatta. Serenade and Varuna 1939 will also be newcomers to the event.
The team from the Hill Robinson Antibes office are looking forward to attending. General Manager Giles Hunt comments, "It is truly an honour to represent Hill Robinson, together with our fantastic staff, at the 27th Les Voiles d'Antibes. The team will be out on the water aboard the stunning Hallowe'en 1926, so watch out for some serious, light-hearted competition! As the event's main sponsor, Hill Robinson will once again present the 'Best Teamwork' Award, recognising the most impressive display of crew teamwork and safety over the four days of racing. Good luck to all the classic yachts who have entered the event for 2022!"
Hill Robinson will also be exhibiting in Les Voiles d'Antibes village, where a special invitation is extended to crew looking for jobs to come and meet recruitment consultants at our stand from 4-7pm each day.