An interview with Luciano Ruggiero, captain of M/Y SOUNION II
For Italian-born Luciano Ruggiero, guest satisfaction and safety at sea is top of the agenda – and it's all in day's work for Luciano and his team.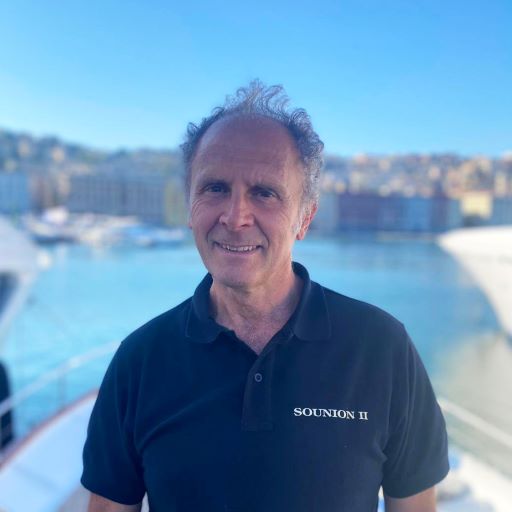 "I've been captain of Sounion II for almost two years now, and I love her classic lines, canoe stern and oceanic bow," begins Luciano. "I'm happiest on the bridge, where everything is under my control, and I can keep a close eye on all that's happening."
Luciano has cruised the Mediterranean from end to end, exploring the coast of Spain, the South of France, Corsica, Sardinia, Italy, Croatia, the Greek islands and Turkey. "I have deep blue water experience as well," adds Luciano, "I have completed several Atlantic crossings, sailed through Cape Verde and the Azores." But it's providing a first-class charter experience that brings Luciano delight, rather than adventurous cruising itineraries. "It's truly what I enjoy most about my work – if the guests aren't satisfied, I'm not happy!"
Sounion II has fantastic deck spaces with a variety of different seating and social areas, and Luciano thinks it's this that makes the boat so well suited to charter. "And, we have a very pleasant working environment onboard – I lead the team with a very positive attitude and the result is a great onboard dynamic."
When not at the helm of Sounion II, Luciano is to be found with his family and encourages them in his active lifestyle, "I have always had a passion for the sea. When I was young, I sailed hobby-cats and went windsurfing, and still, I am always keen to get outdoors. I am interested in design and architecture as well – I'm just a curious person, and I think that's what drives me."
Sounion II will be available for charter along the Amalfi coast this summer, and what better guide than an experienced, Italian captain.