Meet the captain: Adam Rees of M/Y AMMONITE
Captain Adam Rees was born on the Bahamian island of Nassau. Something of a water baby, Adam was swimming before he was walking and, it seems, hasn't looked back at dry land since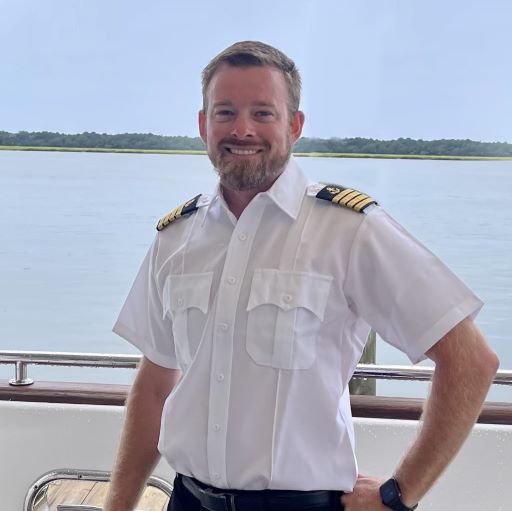 "I was boating and fishing at a very early age, joining my uncle's boat – he was a commercial fisherman in Nassau – and after that, I spent over a decade as a scuba diving instructor and captain of dive boats," explains Adam. "Oh, and I was a commercial lobster diver on the side!"
Adam attainted his yacht master in 2018, which allowed him to run commercial dive boats with up to 30 passengers. In 2021, Adam stepped aboard AMMONITE and oversaw a refit for the new owners. "I also created the charter programme. As a boat that's purposefully geared up for scuba diving and fishing trips, my experience and local knowledge came in useful," says Adam.
Adam came to his new role aboard AMMONITE quite organically. "I met the owner during a scuba trip," begins Adam. "He and his friend were hunting for lobster and they were going to take a look at a few Nordhavn boats while they were in the area – they invited me along as a bit of a local guide!" As the boat search progressed, talks turned to what a boat could offer as a charter vessel, and the experiences that were popular.
And with that, AMMONITE Adventure Charters was created. "We love adventurous guests – those who want to pair a luxury yachting experience with amazing scuba dives and deep-sea fishing trips," says Adam. "It's all pretty laid back onboard – some like to dive, snorkel or fish in the morning, and enjoy a long lunch or time as a family in the afternoon."
Adam describes the onboard ambience as a relaxed one, "It's up to the charter client, really. The nature of the activities we offer and the excursions, however, does mean it's quite a casual environment during the day. If a charter group would like a more formal arrangement for dinner, then we can do that – AMMONITE lends herself beautifully to both styles."
AMMONITE is deeper and taller than most in her class, and has more interior and exterior space for guests to enjoy. "This yacht really has been planned out carefully. We recently installed an 11-zone audiovisual system as well, so everything can be controlled at the touch of a button." AMMONITE also had new interior and exterior lighting installed recently, "The new underwater lights are stunning! The lighting off the aft deck is great for attracting fish," adds Adam.
AMMONITE has an open plan saloon and galley, which gives a convivial style. "It's the natural place for guests to gather, share stories and enjoy meals. But the aft deck dining table is also popular, there you can enjoy the breeze. And whether at anchor or underway, guests love the flybridge – there's great views from up there, and another spot where you can dine alfresco."
As well as taking experienced scuba divers out to explore the islands and dive spots, Adam and his crew can offer PADI certified courses and encourage their guests to venture to the more remote areas. "We use the Regulator boat or the dinghy for that," says Adam. "We also use the Regulator for both inshore and offshore fishing, too, she's 26-foot long and equipped with everything you need."
Adam's favourite spots in the Bahamas to share with charter guests include the trip from Walkers Cay to Marsh Harbour, and Manjack Cay. "There's stingrays in Macjack Cay and I've had them eating squid right out of my hand! Manjack Cay also has amazing beaches, reefs, and a nature trail that runs across the island," explains Adam.
Adam is a PADI Elite instructor and Master scuba diver trainer. He is a calm captain who always has time for a chat. "For me, it's all about making guests feel comfortable, and I want to understand how I can make their charter experience something special." He leads his crew, and the guests, with a firm authority when it comes to safety however, "whether that's onboard or in the water, if there's a risk that actions could jeopardise safety, then it doesn't happen. Not on my watch!"