Saudi Arabia: discovering the new yachting frontier
An increasing number of superyachts are looking to visit Saudi Arabia as the country's regulations for entry ease and its yachting infrastructure expands. With its local expertise and established relationships, Hill Robinson is poised to assist them.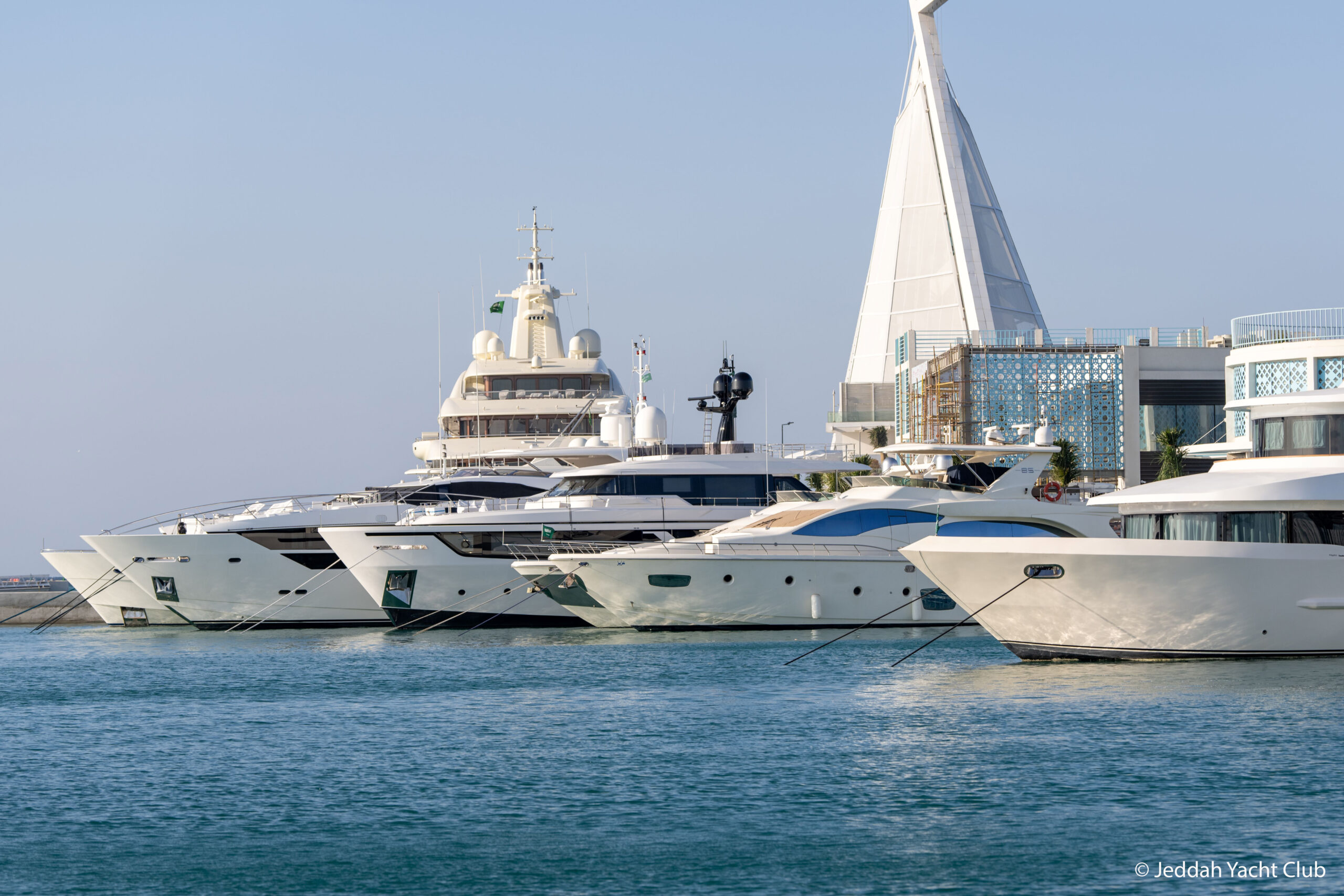 The Kingdom of Saudi Arabia – a land known for its rich history, vast deserts, and ancient cities – is carving a new identity as a premier superyacht destination. As part of its ambitious Vision 2030 initiative to attract international tourism, the country is developing a series of luxury coastal havens, including NEOM's Sindalah island and AMAALA. The recently opened Jeddah Yacht Club and Marina, which can accommodate over 100 yachts up to 120 metres, has already established itself as a yachting hub.
For years, Saudi Arabia remained closed off to visiting superyachts due to stringent restrictions and a lack of infrastructure. The tides are turning, however, and Saudi Arabia is now proactively attracting superyachts to discover its pristine coastline, azure waters and cultural wonders. "Saudi Arabia is focused on putting itself on the yachting map," explains Niel Gow, Agency Operations Manager at Hill Robinson. "The development of Saudi Arabia's coastline and the easing of entry regulations are reshaping the landscape for visiting yachts."
Hill Robinson has seen Saudi Arabia's yachting journey first-hand, having been established in the region for over six years. With its second office in the Kingdom now open in Jeddah Yacht Club and Marina, the company is using its strategic positioning and local expertise to provide agency services to visiting yachts. Hill Robinson's support in the region includes a whole host of speciality services including arranging berths, crew transfers, immigration, clearances, provisioning and concierge. "We take care of all the necessities to make a yacht's visit as smooth as possible," says Niel.
Such assistance is vital while the country's regulatory framework is still evolving. "There are still a few grey areas, but new yachting regulations are being put in place all the time with the aim of opening up Saudi waters," assures Niel. "For example, everybody visiting Saudi requires a visa, but some nationalities are currently not permitted visas. There is now a system in place for yacht crew so that all nationalities working on board will be granted entry visas. There is still quite a lot of paperwork that needs to be done, but it's getting better – the Saudi Government has an excellent team in place who have the vision and intuition to make this happen while supporting sustainable yachting and their valuable ecosystem."
There is certainly interest from the yachting community. The Formula 1 STC Saudi Arabian Grand Prix 2023 in March shone a light on the region as a superyacht destination, with several large superyachts berthed at Jeddah Yacht Club and Marina for the racing weekend. "The yachts that visited are spreading the word that it's a new cruising and we are getting lots of enquiries from captains wanting the lowdown on visiting," adds Niel.
There are plenty of events lined up in the coming year to further entice interested yachts. From 29 November to 2 December, Jeddah Yacht Club and Marina will be hosting one of the 37th America's Cup preliminary regattas, for which there is a 90m-plus berth and a few smaller berths still available. The regatta also coincides with the Red Sea Film Festival, taking place from 30 November to 9 December.
The Saudi Arabian Grand Prix 2024 will also take place from 7 to 9 March next year, for which there are still berths available. "The marina is adjacent to the track – the view is not quite as good as the trackside berths in Monaco but you're still right in the middle of the action," advises Niel. "The marina was very busy at this year's Grand Prix, so it's advisable to book well in advance."
Considering the exciting events calendar, ongoing developments and easing regulations, Niel is certain that Saudi Arabia will soon act as a compelling alternative to the Caribbean and other winter yachting destinations. "For yachts in the Mediterranean, they just have to come through the Suez Canal and they will discover a warm climate, beautiful diving spots and luxury resorts," he concludes. "The Saudi coastline offers a whole new cruising playground for owners and guests to discover."
As Saudi Arabia's coastal transformation continues, Hill Robinson looks forward to assisting many more superyachts to discover this emerging yachting hotspot. If you are interested, please contact enquire@hillrobinson.com / +377 9310 2929.