Charter
Charters for everyone: On board 78m Amaryllis
BOAT International spoke to captains Johan Harris and Charlie Rowlands about the summer season ahead, what sort of charters they can offer, and what makes a stay aboard AMARYLLIS so memorable.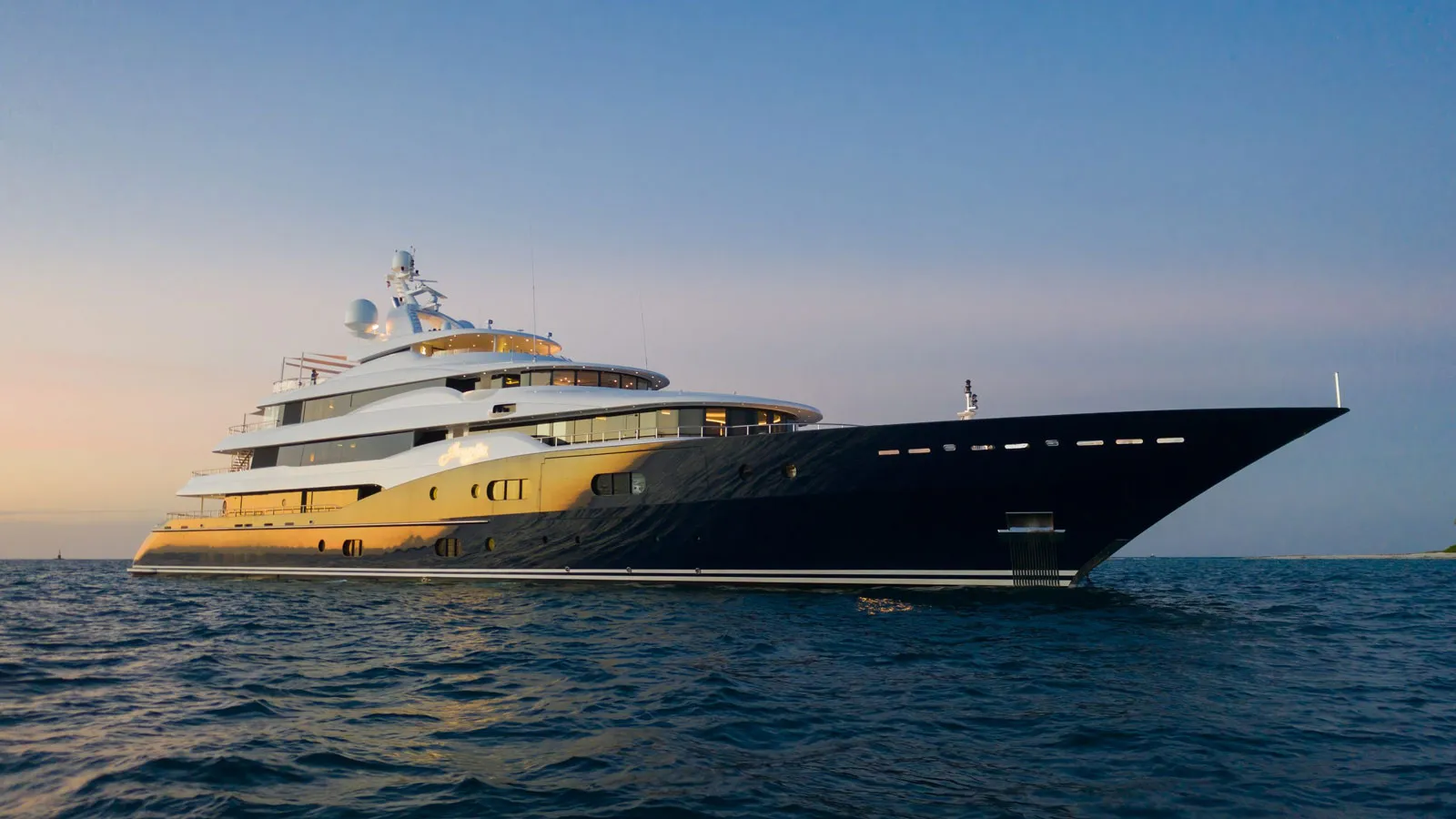 After a few seasons based purely in the Caribbean, the 78m Abeking & Rasmussen-built AMARYLLIS is making a welcome return to the Mediterranean this season. With a variety of activities available on board, such as relaxing spa treatments, gym workouts, exhilarating water toys, and beautiful Mediterranean locations on the itinerary, she is the perfect option, no matter how diverse the charter group or how demanding your expectations are.
"She's a very versatile yacht," says Captain Johan Harris. "There are loads of outdoor spaces for people who like being in and around the water all day. Alternatively, we have beautiful interior spaces for more 'indoorsy' people. There really is something for everyone."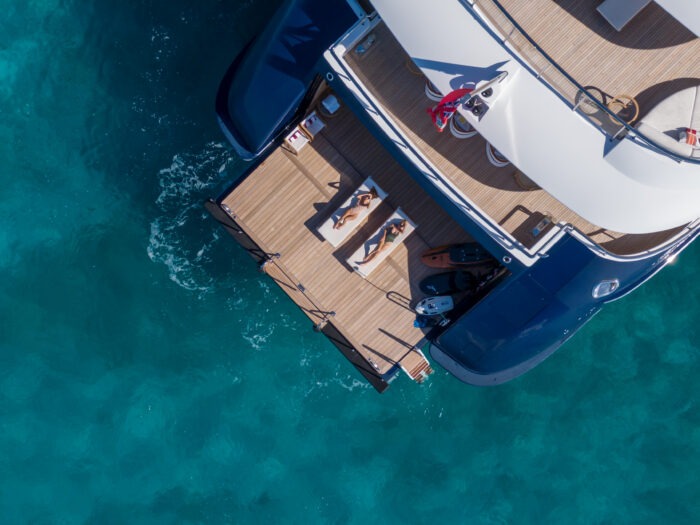 Sit back and relax
For those seeking a relaxing getaway, AMARYLLIS offers an indulgent spa experience. With an impressive beach club located aft on the lower deck, guests can indulge in a range of rejuvenating activities. The onboard spa facilities provide an oasis of tranquillity, with a sauna and steam room for detoxification, a plunge pool for invigorating dips, and a massage suite for treatments.
The yacht also boasts a dedicated gym, fully equipped with state-of-the-art machines and accessories, allowing charter guests to maintain their fitness routines while on board. However, if it's total relaxation you seek, AMARYLLIS can provide that too, with a multitude of spaces to sunbathe, read or simply take in the view, either in a secluded spot or with your charter companions.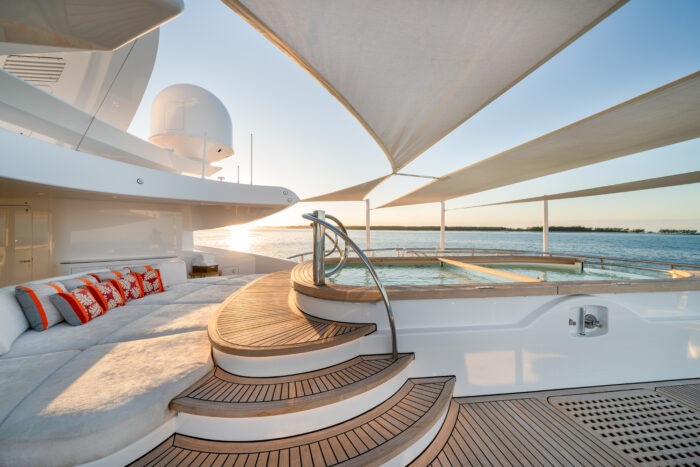 Zoom around on the latest water toys
No superyacht charter is complete without water sports. With an impressive array of water toys on board, AMARYLLIS is sure to satisfy even the most thrill-seeking guests. From high-powered tenders to exhilarating Jet Skis, there is something to suit a range of interests and fitness levels.
"She's very versatile in what she can offer with regards to wakeboarding and water skiing," explains Captain Rowlands. The 6.6-metre MasterCraft X25 waterski tender offers the perfect platform for water skiing enthusiasts to showcase their skills. Guests can also enjoy the excitement of jet skiing with the Yamaha FZS and Yamaha SJ700 Lightweight Superjet models. Wakeboards are available for those looking to catch some waves and show off their tricks.
The Seabobs are great fun—guests can dive into the crystal-clear Mediterranean waters and see a range of beautiful tropical fish. For those who prefer something a little gentler, SUP (stand-up paddleboarding) offers the perfect platform to soak up the surrounding scenery. Fishing enthusiasts will be delighted to find a range of equipment on board to try their hand at landing the catch of the day.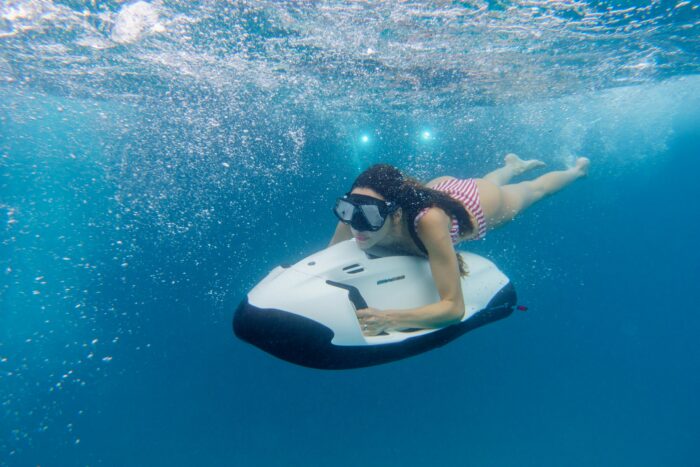 Interior design like no other
Built in 2011 and refitted in 2019, AMARYLLIS's interior draws inspiration from the Belle Époque, Art Nouveau and Art Deco periods. Esteemed designer Reymond Langton penned a vibrant colour scheme, featuring custom-made sycamore wall panels and Macassar ebony furniture to set the scene for memorable charter experiences.
With accommodation for 12 guests in six luxurious suites, including a VIP suite on the main deck and a master stateroom with panoramic windows, his and hers bathrooms, an office, dressing room, and direct access to an exclusive deck and sunbathing space, this vessel offers ample space for friends and family. The expansive saloon on the main deck, the piano lounge/bar and formal dining room on the upper deck, and the sky lounge on the bridge deck, with its 103″ Plasma television screen, offering direct access to a spacious al fresco dining area for 12, provides the perfect settings for socialising and creating lasting memories.
Both captains highlight how the onboard spaces can be transformed to meet the needs of the client. Captain Rowlands mentioned that there are fantastic wide-open spaces for parties, whilst Captain Harris added that the crew can create fun and safe environments for families with children. She really is a yacht for everyone.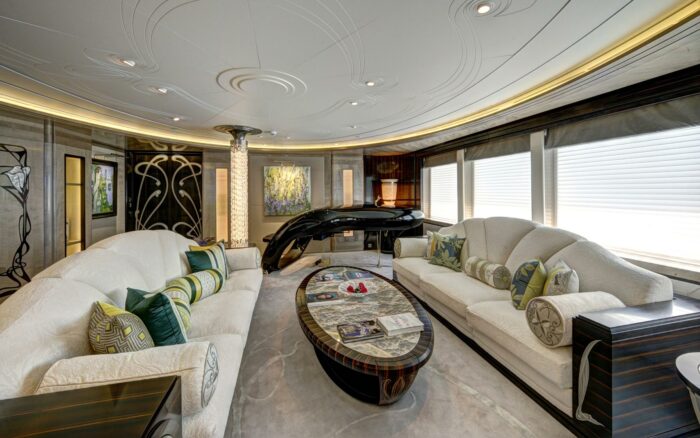 Indulge in Michelin-star-standard food
Chartering a yacht isn't just about exploring beautiful destinations, it's also an opportunity to savour exquisite cuisine. Captain Rowlands credits the two talented onboard chefs who work on rotation. "We have a long-standing crew on board with two amazing chefs—both with Michelin-star backgrounds and experiences."
Guests can experience a culinary journey that rivals the finest Michelin-starred restaurants. Onboard AMARYLLIS, every meal is a masterpiece, crafted with the freshest ingredients and innovative techniques. Whether enjoying an intimate dinner on the sundeck, a formal affair in the elegant dining area, or a casual barbecue on the beach club, guests are treated to food that leaves a lasting impression.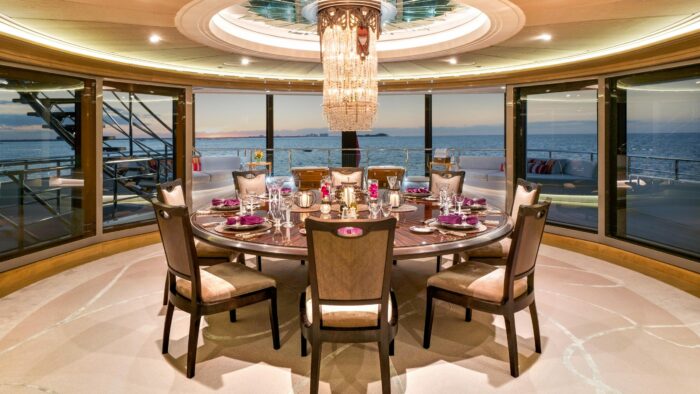 Go wherever you want, whenever you want
Available to charter in France and Italy this summer, AMARYLLIS offers the freedom to explore a multitude of breath-taking destinations. Whether it's discovering the hidden gems of Corsica, indulging in the grandeur of Monaco, relaxing on the shores of Sardinia, or marvelling at the beauty of the Amalfi Coast, the possibilities are endless.
Originally published by BOAT International, this article can be read in full here.
Related News
No related news