When science meets art
Having observed the UN World Oceans Day earlier this month, Hill Robinson spotlights the work of sculptor Jason deCaires Taylor whose recent installation aims to regenerate the Great Barrier Reef.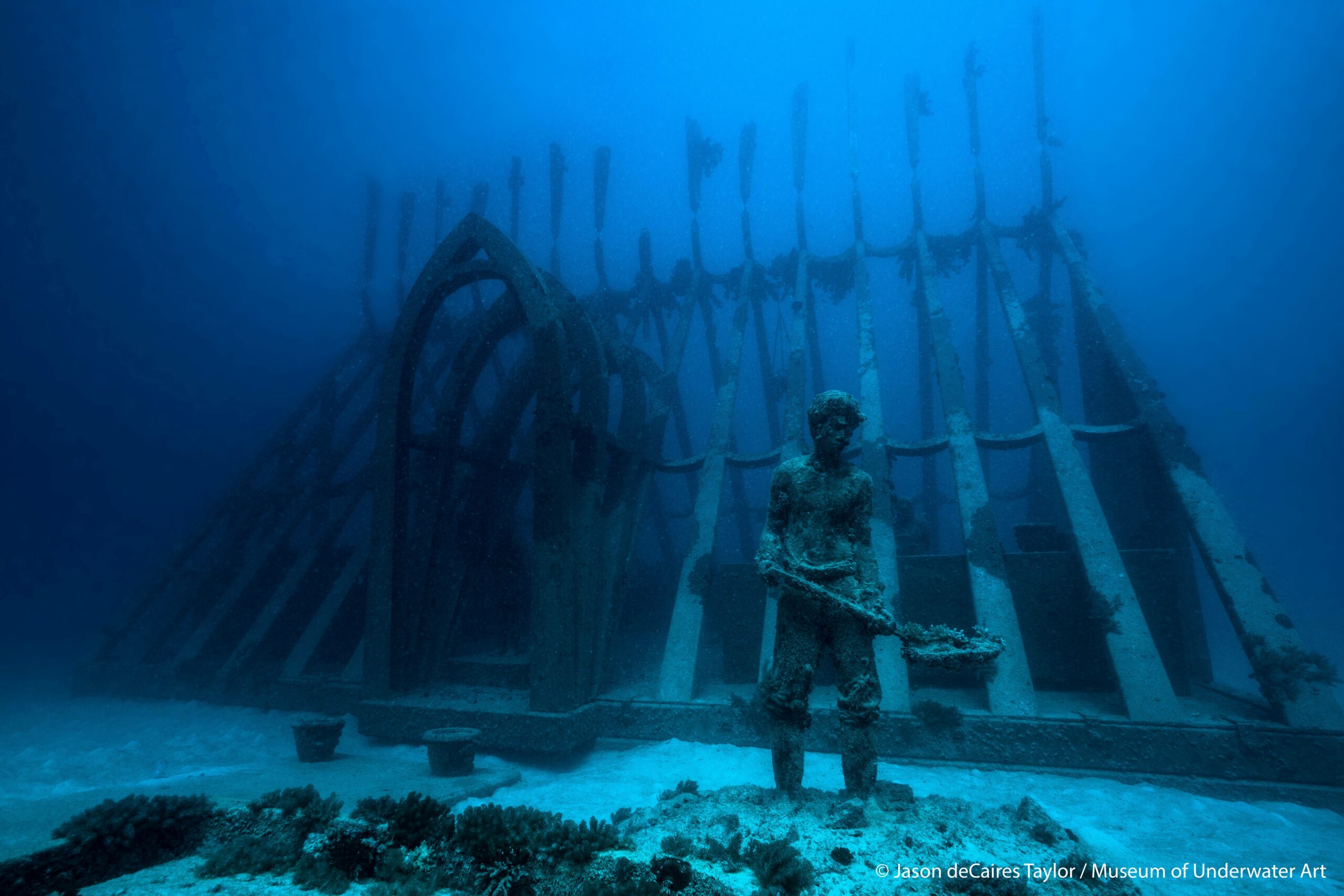 For the past 16 years, Jason deCaires Taylor has been creating underwater museums and sculpture parks beneath the waves. These artistic installations create a habitat for marine life while raising awareness about the damage humanity is inflicting upon the world's oceans. Officially launched on World Ocean Day 2023, Jason's most recent installation – Ocean Sentinels – is a series of eight sculptures located at John Brewer Reef on the Great Barrier Reef.
A synthesis of human figures and natural marine forms, each sculpture showcases a renowned marine scientist or conservationist, highlighting their significant contributions to reef protection. Located on the Museum of Underwater Art (MOUA) site within John Brewer Reef, the sculptures are at a shallow depth so that snorkellers can easily view them. The new snorkel trail aims to create an educational and informative introduction to the Great Barrier Reef, celebrating its rich history and its connection to some of the world's leading marine science institutions and its strong links to indigenous cultures and traditions.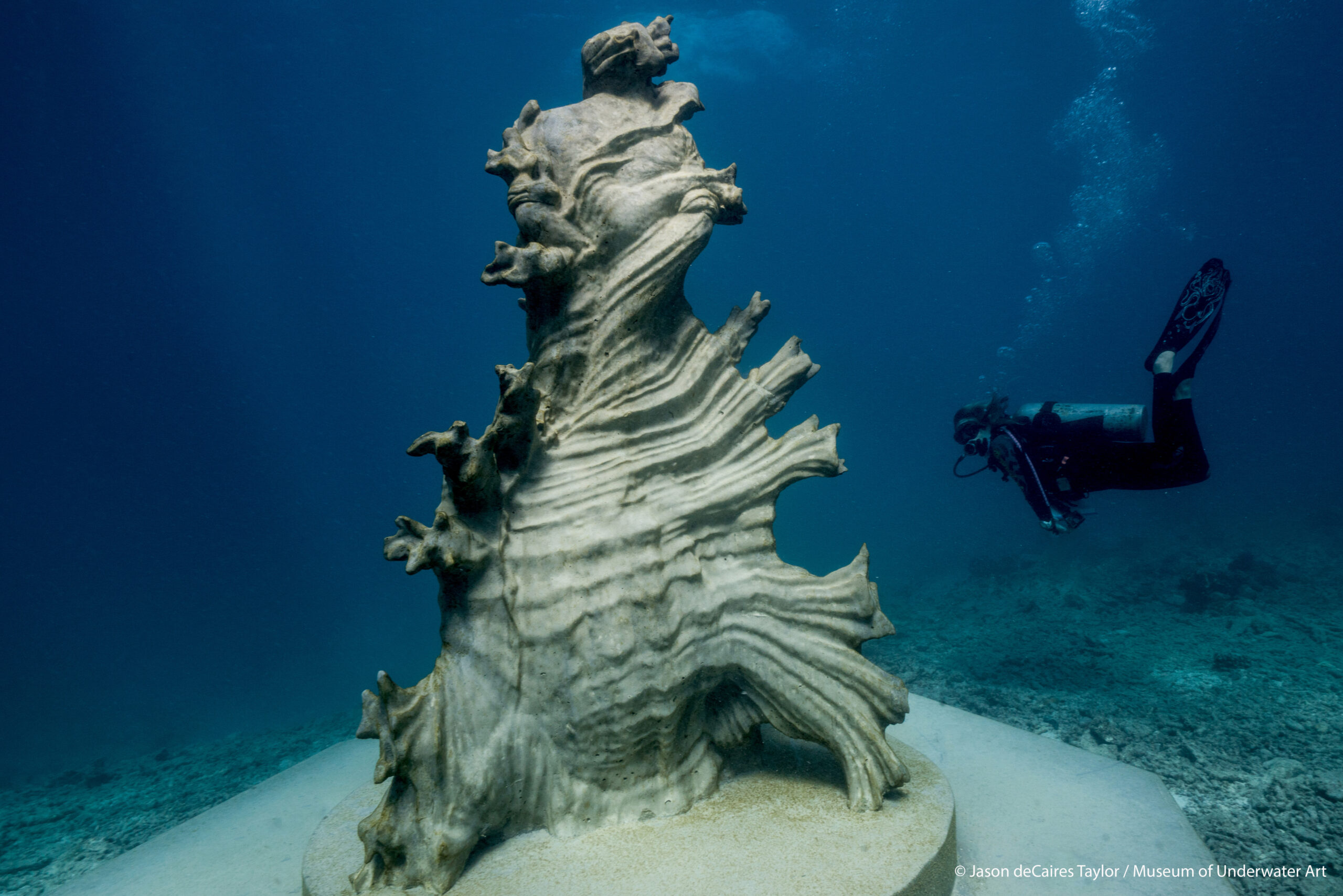 Crafted from a sustainable and resilient earth-friendly concrete, the artworks are designed with a low centre of gravity to withstand the powerful forces of the ocean. With their surfaces intentionally designed to attract marine life, the sculptures are expected to transform over time as endemic species such as corals, sponges, and hydroids colonise them, mirroring the reef's dynamic nature. Like the Great Barrier Reef itself, they will become a living and evolving part of the ecosystem, emphasising both its fragility and its endurance.
Due to global warming, much of the Great Barrier Reef has been damaged by coral bleaching – a stress-induced phenomenon that causes corals to expel the microscopic algae that live in their tissues. While bleached corals are not dead, they are more at risk of starvation and disease. Jason's work, therefore, is designed to help stimulate new growth, offer a sanctuary for the endangered lifeforms, and lure away curious divers from more vulnerable areas.
The Ocean Sentinels form the newest part of the MOUA's Coral Greenhouse, the first underwater museum in the southern hemisphere. All the sculptures within the Coral Greenhouse serve not only as a unique attraction for visitors, but also function as artificial reefs, providing habitat for marine life and promoting coral growth.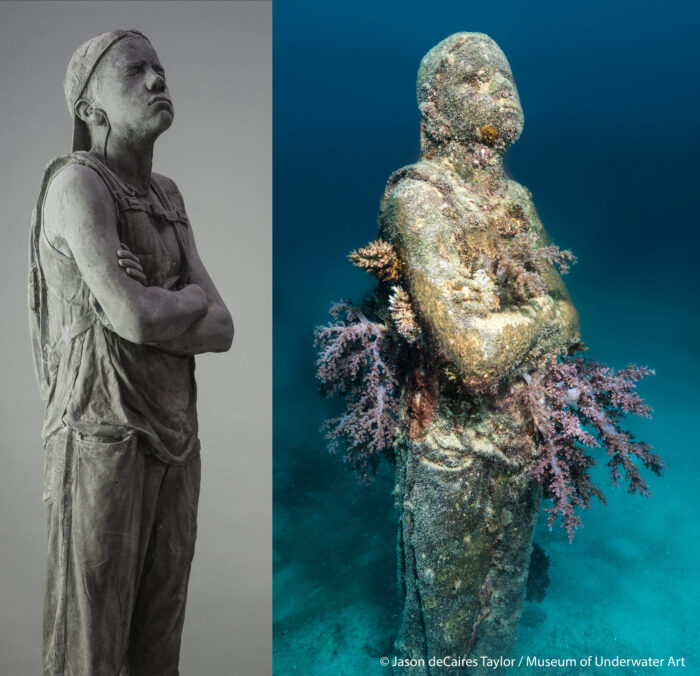 Since its installation in 2019, the Coral Greenhouse has evolved into a flourishing underwater garden with new marine life being attracted and scientifically documented. Fish surveys by scientists from Reef Ecologic and TropWATER indicated significant increases of diversity and abundance, with 12 species and 65 individuals recorded in 2018 compared to 46 species and 365 individuals recorded in 2022. That is a 400% increase in diversity and a 500% increase in abundance in just four years.
Learn more about the Jason deCaires Taylor's work here.